Chesapeake Bay Fishing Charter
With Capt. Mike Middleton
Kodiak Charters of Kent Island, Maryland welcomes all anglers aboard that are looking for an exciting day of fishing Chesapeake Bay.  Captain Mike Middleton was born and raised on Maryland's Eastern Shore.  As a third-generation fisherman, he has been crabbing and fishing the Chesapeake Bay and its tributaries all of his life.  Captain Mike is a 100-ton licensed captain and was certified more than 20 years ago.  As the owner-operator of Kodiak Charters, he enjoys providing his Chesapeake Bay fishing charters to anglers of all skill levels and fishing backgrounds.  This is a family friendly fishing charter and all we ask is for you to be ready to have a good time catching quality fish on the waters of the mighty Chesapeake Bay.  Please contact Kodiak Charters to book your next Kent Island fishing charter adventure.
Chesapeake Bay Fishing
Captain Mike invites you to bring your fishing group, family, friends, and business associates to spend a day on the water with Kodiak Charters if you're looking to go Chesapeake Bay striper fishing.  Striped Bass also known as Rockfish, are a fun catch to reel in!  Striped Bass is also good eating, so please bring a cooler so you can take your fresh catch home with you.  Our Chesapeake Bay striper fishing company is a short drive from Washington DC, Annapolis, and Baltimore.  Kodiak Charters is your best option for anglers looking for a long-standing charter fishing company that has developed tried and true methods for striper fishing Chesapeake Bay.  The captain works very hard to ensure that your fishing charter is an excellent experience, while fishing aboard with Kodiak Charters.  We want you to have an amazing time while maintaining respect for the boat, the crew, and the bay.  Safety is always our top priority and we will make sure your fishing experience is one that'll you'll tell all of your friends and family about.  Please contact our Chesapeake Bay fishing company to book your next striper fishing charter.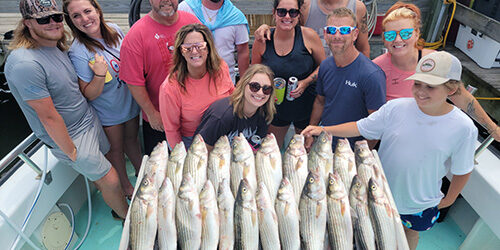 Bluefish & Spanish Mackerel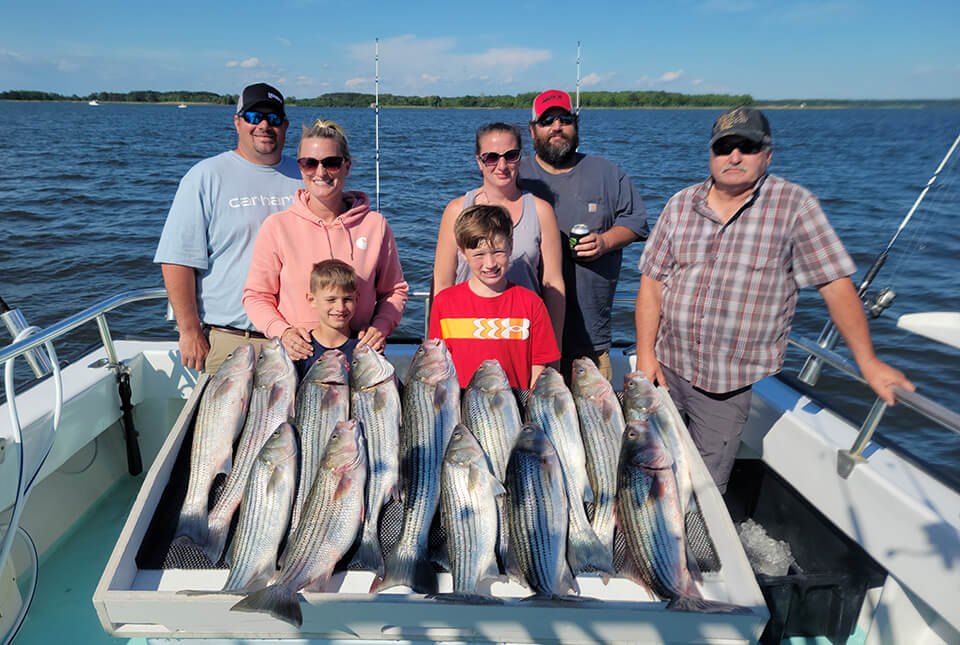 Chesapeake Bay Fishing Charter Info
6 Hour Charter - Call for Pricing
We can accommodate up to 25 people.
Gift Certificates and Merchandise Available